Express Leadership University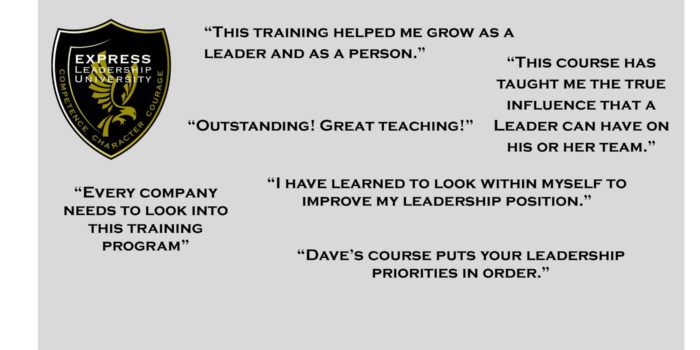 The Leadership Development Department for East Texas Businesses.
Graduated: Over 450 East Texas Business Leaders since 2012.
Local:  An East Texas Business designed to serve East Texas Businesses.
Follow-up:  Not a leadership event. A leadership program that includes accountability and coaching from session to session.
---
Frontlines to the C-Suite Leaders Program: 6 Sessions
The #1 reason for employee turnover is their frontline manager. The #2 reason is the trust they have in upper management. The goal of this program is to serve our clients through training their leaders from the C-Suite to the Frontlines. A team with great leaders at every level will always beat a team with good leadership only at the top.
Session 1: Becoming a Leader of Character: Courage, Humility and Integrity
Session 2: Becoming a Leader of Character: Selflessness, Duty, and Positivity
Session 3: Communicate Like Leaders
Session 4: Building a Winning Culture – Organizational Character
Session 5: Priority Management and Goal Setting
Session 6: Leadership Case Studies
---
Sustainability Tools
The whirlwind of a leader's job often causes them to lose sight of the goals they develop as part of many leadership seminars. Express Leadership University can implement different tools to help the busy and overwhelmed manager "keep his/her eye on the ball" between sessions.
Conference Calls
You Tube Reminder Videos
Pre-arranged Individual Telephone or Live Coaching
Articles and/or case studies for review and discussion
Contact Dave about Express Leadership University
Feedback from recent Express Leadership University Graduates:
Dave's use of real life stories and more importantly his personal investment in his client groups truly make his message impactful.  I cannot remember a trainer ever conducting the amount of advance work that Dave does, and it provides a level of customization that is unmatched.
Pat Stacey
VP / General Manager, KLTV-TV
2011 Emmy Award Winner
As a seasoned executive, it is essential to me that my continuing professional development complements my years of experience and considers important shifts in business and nonprofit industry standards. This leadership program was impactful, relevant and current. I am pleased to say, the six-month leadership program more that met my expectations. I left each month with new, practical and applicable information. To find a program that encompasses so many facets of leadership and has a mentoring aspect is rare. I would highly recommend this program to anyone who is interested in building a stronger team, improving their communication skills, or simply becoming a better leader.
Nan Moore
United Way of Tyler
President